Selling a yacht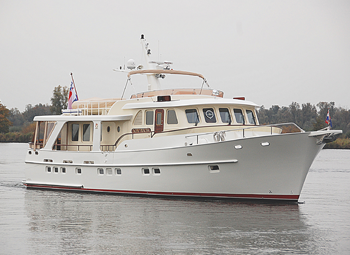 Once you have decided to sell your ship, you ask yourself the question: "Which broker am I going to work with?". You will choose a reliable partner who has plenty experience. In other words: Sterkenburg Yachting!

First, we come at your request, without engagement, to determine the value of your ship. We can determine the marketability and the corresponding value of your ship. If you agree with us, your ship shall be moored at our beautiful marina in Drimmelen and we will make up a mediation order for a period of six months.

The next step is that we invite people who are looking for a ship like yours for a viewing of the ship. The yacht will also be published in a number of Dutch and international water sports magazines and will of course be posted – with photos - on websites that can speed up the selling process.

Moreover, we will present your ship professionally in our booth at a number of Dutch and international water sports exhibitions. Once you have chosen us, we will do whatever we can to come to a swift sale and arrange a good selling price. And of course we will take care of a correct fulfilment, in which all parties – buyer, seller and broker – will be satisfied.

If it should happen that we find a buyer for your ship who would like to exchange and you are not interested, we can buy your ship for the exchange, which gives you the opportunity to invest your money in the next ship of your dreams.

All in all, there are more than enough reasons to choose Sterkenburg Yacht Brokers to sell your ship.